Nomadix Wireless Connect Gateway

Comprehensive Wireless Internet Access Solution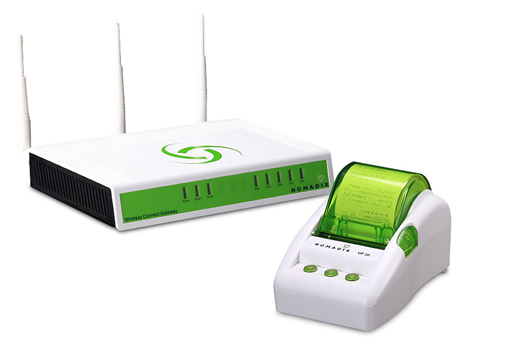 Nomadix Wireless Connect Gateway
Nomadix Wireless Connect Gateway Platform Bundles
Nomadix Wireless Connect Gateway Bundle Platform
Up to 200 wired users. Up to 48 users in WiFi mode, 3 Year warranty, license and support
#902-0800-002A
Our Price: $483.75
Nomadix Wireless Connect Gateway Platform Purchase add on options
Nomadix Wireless Connect Gateway VP20 Thermal Printer
#902-0020-001
Our Price: $290.00
Nomadix Wireless Connect Gateway 1 Year Software License
#716-1804-001
Our Price: $100.00
Overview:
The Nomadix Wireless Connect Gateway is an all-in-one WiFi hotspot and feature-rich Internet access gateway that provides secure Internet access for wireless users. The NWCG is designed for smaller establishments, such as retail chains, restaurants, conference rooms and waiting rooms. It offers a plug and play, zero configuration solution that allows guest access without comprising the security of an internal corporate network. In the case of applications that do not require WiFi, such as network connectivity for a conference room, the gateway can be used to serve up to 200 users in a wired network architecture. The authentication process is the same for both wireless and wired gateways.
Powerful One-Two Punch
The Nomadix Wireless Connect Gateway doesn't just offer another WiFi access point. Its unique quality stems from the gateway component, which can be used as a standalone four LAN port authentication gateway to monitor and control Internet access for guests and visitors. Robust gateway features include user registration, marketing web pages such as walled gardens, an internal portal page, and external portal page redirection. When combining the gateway with the WiFi access point, the Nomadix Wireless Connect Gateway packs a powerful one-two punch.
Plug And Play Wireless Connectivity
Simple to install, the Nomadix Wireless Connect Gateway supplies businesses with a name and password page for their establishment, thereby providing patrons with wireless connectivity. While many hotspot devices force users to navigate through technical configurations, the Nomadix Wireless Connect Gateway is equipped with plug and play technology so that users don't need to change their existing IP and other network configurations to connect to the Internet. The WiFi access is fast and seamless.
Increasing Customer Loyalty And Generating Revenue
No question that wireless devices, from smart phones to tablets to laptops, are pervasive. Customers appreciate the convenience of WiFi access offered by establishments. Because their patrons have consistent, readily-available WiFi access, these businesses can count on strong customer loyalty and retention, as well as the ability to attract new customers. The Nomadix Wireless Connect Gateway is flexible and can be deployed to increase revenue through additional services.
Anytime, Anywhere Wifi Access
The Nomadix Wireless Connect Gateway is suitable for smaller venues such as restaurants, cafes, campsites, gaming sites, ferry transportation, clinics, or any location where visitors want to get connected to the local area network. Now, anytime and anywhere, connectivity is where you want it to be.
Specifications:
Compatibility
Certified Wifi Wireless Adapters
Interface
4 LAN Ports 10Base T/100Base TX Crossover
1 WAN Port 10Base T/100Base TX autocross-over
SSID Support
Up to 4 ESSIDs
Wireless Operation Range
Up to 400 feet (outdoor)
Wireless Data Rate
300 Mbps auto fall back with 802.11 b/g/n
Frequency Band
2.4 GHz
Encryption
WPA/WPA2, 64/128 bit WEP data encryption
Power Requirements
External power Adapter
Input 100-240 VAC 50/60 Hz
Output 12V, 1.5 A
Dimensions
L 8.74 inches, 5.63 inches, H 1.42 inches
Environmental
Operating Temp. 32 F to 122 F
Storage 14 F to 140 F
Humidity 10% to 90% non-condensing
Mounting
Desktop or wall
IP Plug and Play
End User configuration
Concurrent Users
Up to 200 wired users. Up to 48 users in Wi-Fi mode
Authentication
Web-Based
Radius AAA Support (RFC 2865/2866)
User authentication and accounting
User Self provisioning with Credit Card Purchase
Security Firewall
SSL User login
Layer 2 Isolation security
IP/MAC/URL Address pass through
VPN (IPSec/PPTP) pass through
PPTP VPN client
IP/URL filtering
Management
Configuration page
Web-based Management Tool
TFTP/HTTP Firmware Upgrade
Wizard setup for step by step configuration
Backup restore configuration file
Remote authorization management
Real-time session list
LAN Device Management
Syslog (system/User/accounting and Billing/LAN devices management)
E-mail logs
SNMP v1A2 (MIB II)
Marketing Cooperation/Promotion
Standard Login Page
Customizable log-on and log-off pages
Advertisement URL, link
Walled Garden
WISPr smart client
Logout window timer control
Certification
FCC/CF/C-Tick/VCCI/PCT
Antenna Configuration
3 antennas MIMO
Pricing Notes:
Nomadix Gateway product line is subject to Nomadix End User Software License Agreement (EULA) terms.
Order lead times vary: non-shipment orders within (3) three Nomadix business days, shipment orders are released into the queue in order received and shipped within (10) ten Nomadix business days. Orders can be expedited for fee, please contact us.
Gateway Software License maintains use of NSE Software and optional software modules and includes Premium Support Service through support end of life dates. Software license periods exceeding support end of life dates will maintain use of the software only without support or software upgrades.
Software License period begins when the gateway is installed and registered and the software is enabled.
All products are subject to availability and all prices are subject to change without notice. Nomadix reserves the right to add, modify, change or discontinue any product module or upgrade without prior notification or approval.