Nomadix for Healthcare


From hospitality to telecom to education
Staying connected is good for business - especially when you give your customers the opportunity to connect to reliable and secure Internet access. From the hospitality and healthcare industries to telecom and education, high-speed Internet access (HSIA) is just a click away with Nomadix's diverse array of solutions.
Overview:

Healthcare facilities are ideal locations to deploy Internet access gateways - especially for waiting areas and patient rooms. The ability to connect can enhance the patient experience and minimize wasted time - it may even increase the number of people who make your establishment their preferred healthcare option. Nomadix guarantees a user-friendly experience and maintenance that requires no local IT expertise.
Hospital staffs use mobile devices for a variety of work-related tasks, such as accessing patient records or prescription orders. This makes Wi-Fi a necessity in medical environments. These establishments can also make Internet access available to patients and visitors, providing an additional revenue system. Nomadix also protects the internal network from external attacks, and keeps the IT infrastructure HIPAA compliant.
Medical centers and nursing homes have similar networking requirements to hospitals when deploying Wi-Fi, but with smaller budgets. Offering Internet access to patients and visitors through Nomadix creates an opportunity to increase revenue. As IT resources in these establishments are limited, Nomadix makes the service easy to manage while promising reliability and security.
How a gateway works in an healthcare environment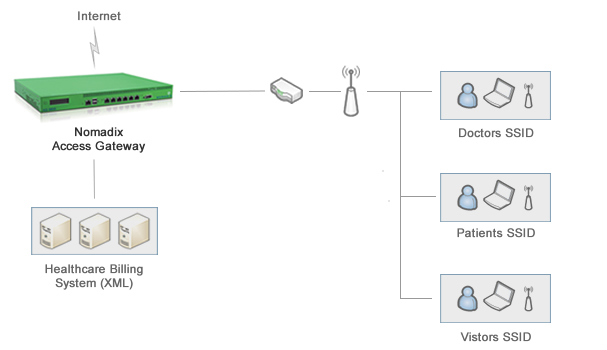 Key Features for Healthcare
Self-Service
With end-users self-provisioning their network access via credit card, Nomadix enables waiting-room visitors to connect to the Internet on their own.
Multiple Authenication Methods
Whether patients desire to only connect a single device (for individual usage) or several (for visitors) to the network with a specific set of login credentials during their stays, Nomadix has an array of authentication methods to meet your needs.
Alerting Based on Content Request
The network administrator or managers can enable alerts when network policy violations occur.
Post-Authentication Home-Page Redirection
After successfully authenticating or a set time has elapsed, patients and visitors can be redirected to the medical facility's corporate home page for promotional messaging.
Plug and Play
To allow patients, medical staff and guests fast and easy Internet connectivity via tablet, smartphone or laptop, Nomadix uses the MAC addresses of each unique device to handle plug-and-play functionality.
Optional WAN Load-Balancing Module
Reduce Internet costs and enhance performance security by implementing Nomadix's Load-Balancing Module to aggregate multiple Internet pipes from different ISPs.
Pass-Through Addresses and Block Pages
With the support of a walled garden, the provider can block certain pages and enable specific sites that any user can access without going through the authentication process, such as patient and doctor portal pages or the healthcare institution's website.
Network Usage Reporting
The Nomadix Internet Traffic Optimizer (NITO) can generate real-time and stored logs like Firewall, Web proxy, traffic, etc. to help you better understand your network.
Optional Routed-Subscriber Module
Centralize Internet access for multiple clinics and/or hospitals using the Nomadix Routed-Subscriber Module.
Category-Based Content Filtering
Utilizing Nomadix's groundbreaking real-time content filtering, NITO can limit or block access based on website content type in certain locations or for specific users. The provider can create and manage the categories for access limitation, such as inappropriate or illegal content, anonymous proxy usage, and malware - going the extra mile for Web safety.
External Web Server and XML Support
For maximum flexibility, providers can customize corporate healthcare landing pages, authentication processes and billing systems using an external Web server with XML commands
Firewall
With a full-featured firewall, NITO can handle site security by implementing rules the provider creates to limit network access, as well as detect and prevent intrusions.
Category-Based Bandwidth Throttling
Providers can create outgoing rules on an application basis, such as streaming, Netflix, updates, etc.
Lawful Intercept
Nomadix allows providers to meet the legal requirement of subscriber traffic retention (lawful intercept) with our logging capabilities. Once activated, the feature will forward all traffic information to be stored in the healthcare Syslog servers. The data will contain the traffic origins and destinations - including the user account details if required.
VLAN Support (Different Zones in the Facility)
Medical information requires a high level of security and confidentiality, so segment your network by enabling VLANs on the Nomadix access gateway. To ensure traffic is handled safely and correctly.
Nomadix Solution:
Nomadix offers its Nomadix Service Engine™ (NSE) software on our family of access gateways which provide a full suite of features and functionality to enable Health administrators the ability to offer patient and visitor Internet access when deploying wired or wireless (WiFi TM) networks.
AG 5800 - The AG 5800 is enabled for high performance solution and scalability. The AG 5800 expands the ability to offer new NSE features with increased high-speed computational intensity. The AG 5800 is designed for deployment from mid to large venues with easy device user count scalability.
NITO - The Nomadix Internet Traffic Optimizer (NITO) is a powerful high speed and cost-effective appliance designed to give you more from your existing bandwidth. By enabling IT managers to access and review traffic patterns and content usage, the NITO offers visibility and insight for intelligent bandwidth management and allocation. Plus, NITO's web content filtering and network security protect your network and users.
Nomadix Advantage:
Healthcare Networks are protected from unwanted and untrusted access with the Nomadix Gateway and it's ability to block unauthorized access per port and per subscriber MAC address. The network can be protected by the use of VLANs and their ability to logically separate traffic within that network. In addition the local subscriber network is protected from external attacks by the use of the NAT™ and DAT™ features provided by the gateway.
Patient/Visitors Simplified Connectivity - Nomadix' patented Dynamic Address Translation™ (DAT) functionality offers a true "plug and play" solution by providing transparent network connectivity for patients and visitors. There are Zero Configuration changes to the visitors PC or mobile device in order to get connected to the network.
DAT greatly reduces provisioning and technical support costs and enables properties to deliver an easy to use, customer-friendly service.
Service Provisioning - Portal Page Redirection (PPR) intercepts the browser's home page request and replaces it with a website designated by the Hospital/medical center or Clinic. This allows anyone to access the network and be directed to a Web site to establish an account, select a service plan, or pay for services.
Home Page Redirection (HPR) allows the administrator to redirect the user after access has been purchased.
The NSE also offers redirection capabilities at session termination to provide a complete service and/or venue service opportunity.
Access Control and Authentication - NSE software restricts access to the Internet until the patient or visitor has signed up for the HSIA service. The Hospital or medical center can also create a "walled garden" allowing patients and visitors to only access certain predetermined Web sites before they have paid for service.
The property can determine what content is available for free, for a fee or permanently blocked through the URL Filtering feature.
NSE supports the secure Browser-based Universal Access Method, as well as Port-based Authentication using IEEE 802.1x and authentication mechanisms used by Smart Clients by companies such as Boingo Wireless, GoRemote and iPass. Nomadix products enable multiple authentication models providing the maximum amount of flexibility to the patient or visitor and to the Hospital by supporting any type of client entering their network.
Advanced Security - Patients and visitors can use a Virtual Private Network (VPN) Client to establish a secure tunnel through Nomadix' patented translation technology back to their corporation for doing work while away from the office.
The NSE features Nomadix' patented iNAT™ functionality creates an intelligent mapping of IP Addresses and their associated VPN tunnels allowing multiple tunnels to be established to the same VPN server This allows several employees of the same corporation to simultaneously VPN back to their corporation.
The NSE software supports tracking logs for Lawful Intercept initiatives.
Billing Plan Enablement - Nomadix supports the widest variety of industry standard billing Systems for direct billing to the patients room.
The NSE offers a 2-Way billing feature which can query the billing systems for confirmation of the name and room number of the patient for billing in a wireless network where a physical association between the patient and room number doesn't exist.
Simultaneous billing methods, including free billing, by minute, hour, day, week and month can be offered as well as post-paid plans allowing the patient or visitor to only be charged for the time used.
Credit card and PMS billing records can be send to a secondary/backup billing application. Additionally, if either are down the AG 5600 can store up to 2,000 billing records until it reconnects.
Bandwidth Management - The NSE allows the IT administrator to manage the bandwidth for subscribers. Depending on the individual guest's needs, they can increase or decrease their bandwidth by the minute, or on an hourly, daily or weekly basis.
Alternatively, the NSE also allows the administrator to sell premium plans to users wishing to obtain a public IP address (IP Upsell).
Service Presentment - The NSE allows subscribers to self-select services and upgrade their bandwidth and billing options—all in real-time through the product's Information and Control Console™ (ICC). ICC is a HTML page pushed to each guest's computer without requiring any additional software installation.
ICC also allows hotels to send custom messages and advertising directly to their guests, and empowers them to upgrade their bandwidth in real-time. For PMS and credit card accounts, the ICC displays a dynamic "time" field to inform subscribers of the time remaining on their account or the time that has expired.